Met 'Extra | Intellen dagboeksaldi' kunt u de dagboeksaldi van het kas-, bank- en giroboek opnieuw laten intellen.
Het intellen van de dagboeksaldi moet u alleen doen als de transacties opvolgend én in opvolgende periodes zijn ingebracht, anders worden de begin- en eindsaldi van de transacties verkeerd ingeteld. Als de transacties niet opvolgend en/of in opvolgende periodes zijn ingebracht, dan kunt u de beginsaldi alsnog handmatig inbrengen door de transacties, met een foutief beginsaldo, op te roepen in het boekingsprogramma en van deze transacties het beginsaldo aan te passen.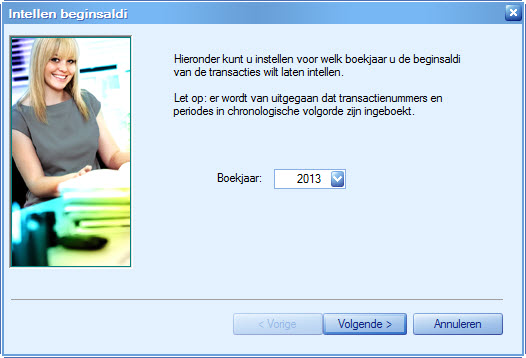 De beginsaldi worden ingeteld op basis van het beginsaldo van de tegenrekening van het dagboek, als de eerste niet-beginbalanstransactie een beginsaldo van '0' heeft. De nakomende transacties worden wel ingeteld op basis van de mutaties in de vorige transacties. U kunt eventueel per dagboek intellen. Hiermee voorkomt u het intellen van eventuele dagboeken waarvan de transacties niet opvolgend zijn ingevoerd.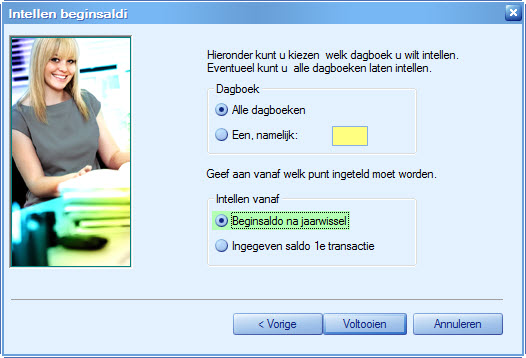 Het begin- en eindsaldo in het infoscherm 'Info | Afschriften' en in de rapporten' Rapport | Grootboek | Afschriften' en 'Rapport | Grootboek | Mutatieverslag afschriften' komt uit de tabel waarin de kopgegevens van kas-, bank- en girotransacties worden opgeslagen.
Als u werkt met 'Cliënt-Kantoorverkeer', en u hebt mutaties die uit een lagere versie dan UNIT4 Multivers 7.2.5 zijn geïmporteerd, dan is het beginsaldo van die transacties '0' en kan 'Extra | Intellen dagboeksaldi' worden uitgevoerd om het begin- en eindsaldo te corrigeren. Door een jaarwissel kan de beginbalans van de tegenrekening van een kas-, bank- of girodagboek worden aangepast. Het beginsaldo van de eerste niet-beginbalanstransactie wordt echter niet aangepast. Als u die aangepast wilt hebben, dan kunt u die zelf invullen via 'Taken | Invoeren financiële mutaties', of door het beginsaldo op '0' te zetten en daarna 'Extra | Intellen dagboeksaldi' uitvoeren.